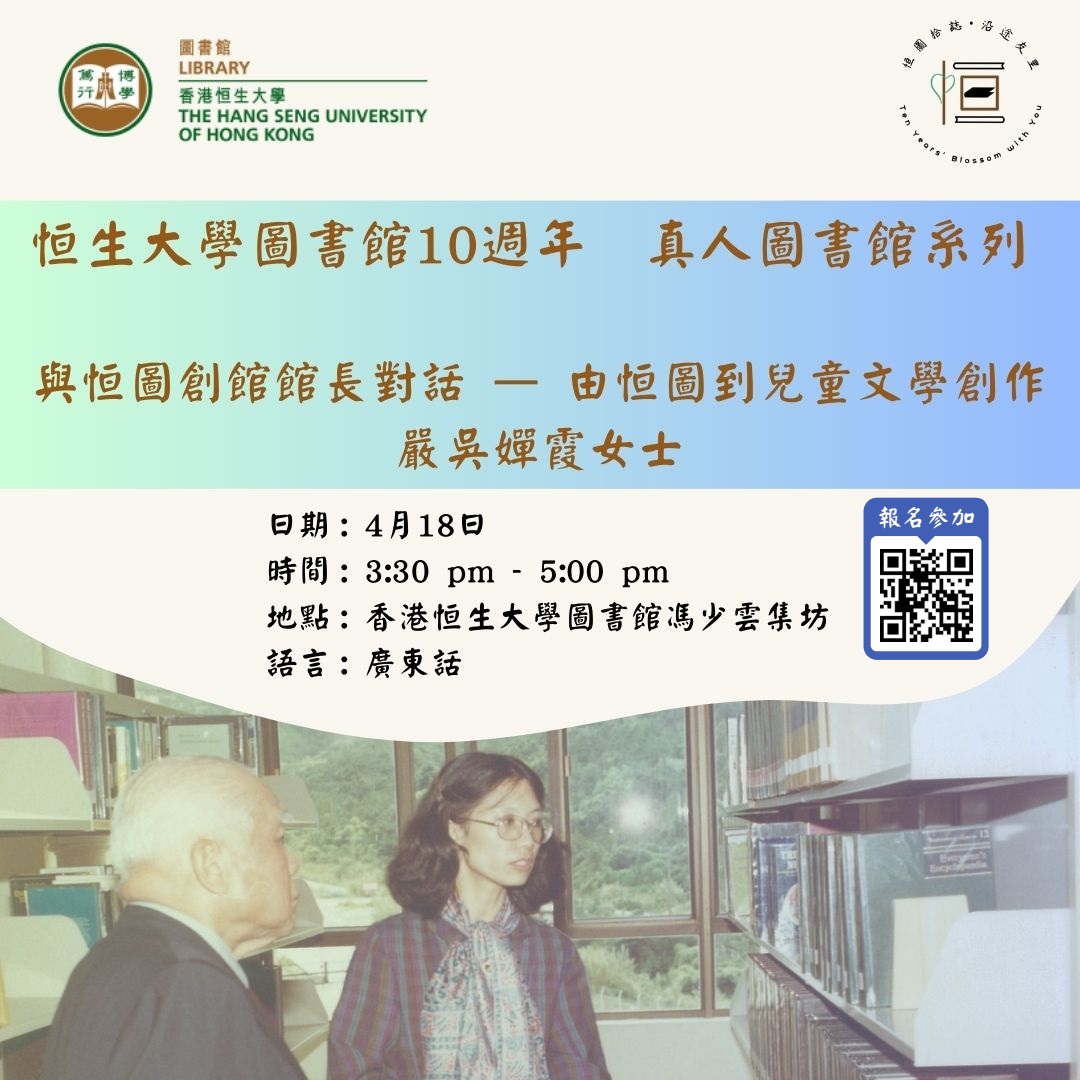 歡迎大家參與真人圖書館!嚴太會與大家分享「在恒商的創校十年」,輕鬆講一些舊時趣事,突顯與四十多年前後恒大圖書館的不同,但今昔圖書館同仁初心不變,同樣是支持學校師生的教與學。除了圖書館外,作為對香港兒童文學有莫大貢獻的作家,她亦會分享她在恒圖開始的十年如何貢獻恒生商學書院及影響香港兒童文學創作。
嘉賓:嚴吳嬋霞女士
日期:2023年4月18日 (星期二)
時間:3:30 pm – 5:00 pm
地點:香港恒生大學圖書館馮少雲集坊
語言:廣東話
報名:https://reurl.cc/2WNWGn
歡迎所有恒大師生參加!現場參與的同學更可獲1 iGPS unit。
嚴吳嬋霞女士簡介
嚴吳嬋霞是香港恒生商學書院(香港恒生大學前身)圖書館創館館長(1980 – 1990年),亦是香港著名兒童文學作家。她是首位香港作家獲得上海陳伯吹國際兒童文學獎(1987年《姓鄧的樹》)及北京冰心兒童圖書獎(1992年《會哭的鱷魚》)。她亦是首位香港兒童文學作家有作品以繪本在日本出版(1986年《大雨嘩啦啦》)。除了文學作品,嚴太亦有研究著作《魯迅與中國兒童文學的發展》於2020年出版。她曾任職新雅文化事業有限公司及山邊出版社有限公司董事總經理兼總編輯。為致力推動優質香港兒童作品出版,亦曾擔任香港書展「兒童天地」籌委會主席。現在她是香港兒童文藝協會名譽會長。
HSUHK Library 10th Anniversary Human Library Series: A Dialogue with the founding librarian of HSUHK Library – from HSU Library to Children Literature Works
Join us in the Library to meet Mrs Irene Yim. The dialogue with Mrs Irene Yim will cover the history of HSUHK Library. She will share the stories around HSSC, HSSC Library and Campus life with the audience. As a contributor to Hong Kong Children's Literature, Mrs Yim's roadmap for her literary works and research will be another highlight of this dialogue.
Guest: Mrs Irene Yim Ng Seen-ha
Date: 18th April 2023 (Tue)
Time: 3:30 pm – 5:00 pm
Venue: HSUHK Library G/F Stella Fung Siu Wan Space For All
Language: Cantonese
Registration: https://reurl.cc/2WNWGn
One iGPS unit will be offered for students who joined the event on-site.