Eikon is a professional platform providing access to both historical and current data for equities and other asset classes including commodities, fixed income and money markets. Apart from pricing and financial data, Eikon also offers detailed company and industry information, investment research results, deep corporate finance information as well as economic news and event information. Datastream content, I/B/E/S data, Worldscope data are all accessible through Eikon.
Who can access Eikon?
HSUHK students and faculty members.
Where can I access Eikon?
Access via a standalone workstation located on the G/F of Library.
Faculty members can request for a login to access Eikon on their own computer by filling out this form. The approval is subject to terms and conditions.
Important notes:
Please make sure to log out Eikon from the task bar on the top left corner. Click the Eikon icon and click Close to Sign out. It is important that you log out straight away as only 1 person can access Eikon at the same time.
If you see the following message, it means someone else is using the account. Please click 'Cancel Sign In'and try later. DO NOT click 'Sign In' because it will interrupt other's work.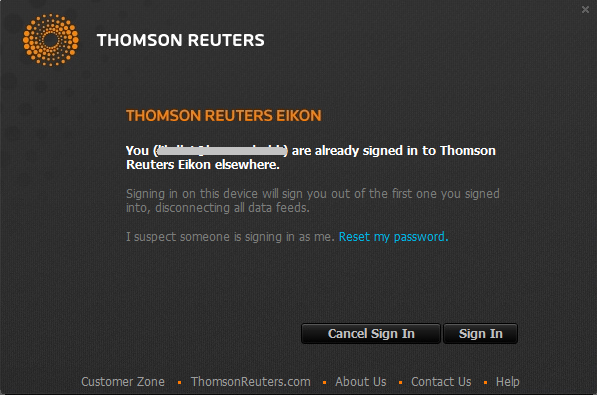 Please note that the Eikon account is a shared account. You are strongly advised to close all workspaces before quit. Workspace settings may also be altered by other users.
Other Training and Support
Click here for training videos on finding different kinds of financial data on the platform.
For support, please use the 'Contact Us' function available through thomsonreuters.com.