The most updated information on downloading and printing of ebook content can be found under "Help" of the database search page.
Two types of ebooks are available at the Taylor & Francis platform: Digital Rights Management (DRM) titles and non-DRM titles. You will see

for DRM titles.
Please read "Why can't I open DRM titles in Google's Chrome browser?" at the T&F Help and FAQ if you have problems with viewing DRM titles in Chrome browser.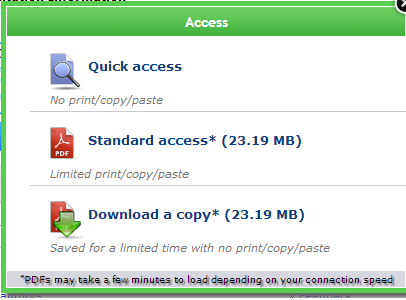 Access or Online View
Click "Quick access" to view the ebook
DRM titles
Only one user can view the book at one time for 120 mins
Non-DRM titles
No limit on the number of users to access the non-DRM titles.
Downloading
DRM titles
Select "Download a copy" to download the book as PDF file – auto expire after 36 hours. Install "FileOpen" plug-in for using the "Download a copy" function
Recommend to use "Adobe Reader" to open the downloaded PDF
Non-DRM titles
Select "Download a copy" to download the book as PDF file (will not cease after downloading)
Printing
DRM titles
Select "Standard access" to print with a limit of 30 pages of the book at one time. Install "FileOpen" plug-in to use the "Standard access" function (you will be prompted to install the plug-in)
Non-DRM titles
Select either "Quick access" or "Downloading a copy*" to print